Refrigerator Repair Service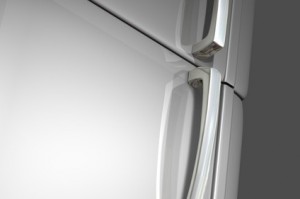 The refrigerator is essential to every kitchen. Having your food spoil because it's not working properly wastes both food and money. And no one wants to come home to a big puddle on the floor because the refrigerator freezer stopped working without any warning whatsoever. Technology is advancing, and sometimes a simple wire out of place can cause issues. And sometimes it's the motherboard panel. The bottom line is — our service fee is low and are rates are extremely reasonable. Don't play the guessing game with DIY videos or tips. Your time is too valuable! Call us for refrigerator repair service.
Local Refrigerator Repair Service
We'd love to earn your business. We service and repair all makes and models of refrigerators – including both the new brands and the older ones like your grandparents had when you were growing up.
When we come to service your appliance, we arrive with our truck stocked with parts to make your repair as quick as possible. Getting your appliance repaired quickly is our aim.
As a local company based in O'Fallon, MO, we're able to quickly service 30 miles out in all directions. If you call before 1 pm, Monday through Friday, we'll do our best to schedule a same-day repair. For refrigerator repair service, call 636-980-3377 or 314-335-9796 or send us a message.
Refrigerator Ice Maker Repairs
Most refrigerators these days come with a door front ice maker. Some ice makers are solely located and accessed within the freezer. We service and repair all makes and models of ice makers regardless of brand, age or location.
He Got My Fridge Up and Running Fast
Jim was professional, friendly, and very fast. He diagnosed the problem within minutes and had my fridge up and running again in no time. I highly recommend his business.
Jenn M.
Highly Recommend
Great job! Would highly recommend. On time, very professional.
Kelly A.
Have Used Him For Years – Always Prompt and Reliable
I have used Jim for years now. Every time I need something he is willing to come and fix it. He is prompt and reliable. I have never had a problem after he has fixed something and would have to come back. I would highly recommend Superior Appliance Repair for any appliances you may have.
Carol R.
Knowledgeable and Affordable
On time, professional, knowledgeable and affordable. Our washing machine
broke and Jim was here the next day and was able to quickly identify the issue and fixed it. Highly recommend.
Wendy S.
Great Job – Reasonable Rates
Jim did a great job repairing a dryer that was part of a stack-able unit in our condo. It wasn't an easy job because of the tight work space but he did it with a smile on his face. And the charge had very reasonable rates. Superior Appliance Repair gets my vote! Thanks again, Jim.
Melody S.
Prompt, Professional, Accurate Estimate
Superior appliance repair was wonderful–Jim was prompt, professional and provided an accurate estimate and cost. I would recommend his service. Thanks!
Jessica G.
Repair Price Was Unbelievable!
Jim did an outstanding job! We've had quite a few appliance issue recently
and he was able to repair each of them with skill and speed. Our fridge
died in October of last year, so we kept it and contemplated using it in
the garage. Jim fixed it without issue and at a repair price that was
unbelievable. Our washer had been having bearing and drum issues for a
month or so and he was able to knock that out in no time. Again, he did
so without breaking the bank. After three washers in 13 years, I was not prepared for a new one and I'm glad I didn't go that route. Jim is a
wizard. Thank you, Jim!
Trustworthy and Skilled
Jim is fantastic! Over the years, he has fixed my dishwasher, refrigerator, & HE washer. He is knowledgeable, patient & quick.  EVEN after hours, I have texted him on other issues that I have had AND he gives me wise advice. He is available & has ALWAYS told me what I need.  He has saved me money by doing ONLY repairs that I NEED.  He is honest.  If I should replace the appliance, he has told me to not waste my money on a repair. It is RARE to find trustworthy people these days. Jim is one of them: TRUSTWORTHY and SKILLED. Thank you, Jim.You're the best.
Gary S.
Same-Day Service and Fixed Both Appliances for One Fee!
I wanted someone to come and look at two appliances. This company only charged one service call for both. A few other companies wanted to charge me to look at the second appliance even though they were already in the home and I also new the problem and could tell them on the phone but they still were going to charge me so I did not go with them. However, when I told Jim at Superior Appliance Repair what I thought was wrong, he listened to my concerns and even took more specific information about the second appliance so he would have the right parts needed with him. He came the same day and fixed both machines efficiently and quickly. The fees charged for same-day service, labor, and parts was fair. He also gave me some tips to help me use my drier more efficiently. I am very happy with my fixed appliances and am happy they are both working again.
C. E.
Fast and Dependable
Great service! Fast and dependable and was there at the time he said he would be.
J. Bova
Fair Prices
I have always had speedy and reliable service from Superior Appliance Repair. This company has fair prices and are respectful of your home. I highly recommend this company!!
Leann D.