4 Things to Look for When Buying a New Refrigerator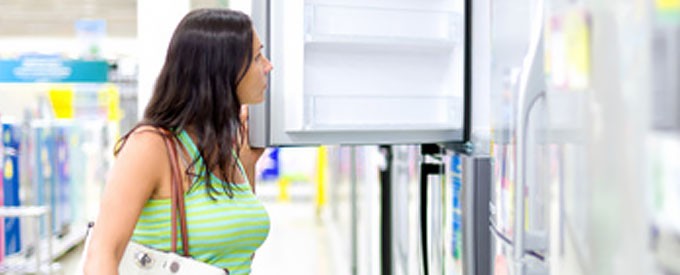 There are many things to consider when buying a new refrigerator., especially if your old one is causing issues. Every individual's taste and style are different, so what to look for when choosing a new refrigerator will differ a little based on the person buying it. However, we will discuss four things that every consumer should consider when buying a new refrigerator.
Buying a New Refrigerator That's Right for You
1. Size: the most important thing to consider is the size. You can choose the perfect style of refrigerator that fits the decor of your home wonderfully, but if it doesn't fit in your kitchen space, it is of no value to you. Make sure you measure floor to bottom of cabinets  for max height; measure left to right for max width; measure from the wall out for depth. You definitely don't want to buy a new fridge and have to take out the cabinets above to make it fit!
2. Style: decide which style of refrigerator you would like best. You can choose from side-by-side, bottom-freezer, or top-freezer. Each of these styles have their own benefits. You just have to decide what works best in your home. Some even have interchangeable freezer/refrigerator options. So if you need more refrigerator space during the summer, you can designate that space as such; likewise, if you need more freezer space during the winter, you can switch it over.
3. Features: decide what kind of features you would like to have. Common features include, adjustable shelves, and temperature controlled drawers. Another must-have for a lot of people is a front ice maker and filtered water dispenser.
4. Finish: the stainless finish is currently the most popular, but if that's not for you, there are others to choose from. Additional finishes include, white, black, and for built-in refrigerators, you can choose a colored wood that will blend in with your cabinets. Most stainless finishes show fingerprints, so if you have small kids (or even big ones), that's something to keep in mind.
The above tips are a great way to choose a brand new, and fresh smelling, refrigerator. Above all else, make sure you buy what you love, and what works well in your home. What works for someone else may not work for you, so be choosy and enjoy the experience.