Natural Remedies to Remove Refrigerator Smells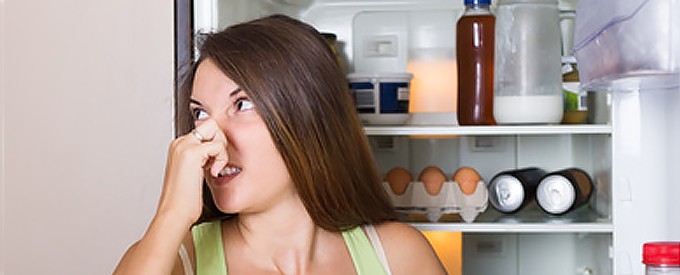 We've all had the experience of opening the refrigerator, ready to find something good eat because we are hungry, then yuck! You just lost your appetite.
Few things are more unpleasant and appetite killing than refrigerator smells.
It can be a challenge to keep the inside of a refrigerator clean as there is always something seeping, spilling or spoiling. However, there are some preventive measures you can take before you have to empty the entire contents.
If you accidentally left something to spoil in the refrigerator and notice odor, take it out immediately and wipe up under where it sat. Bad odors don't go away on their own, and can quickly grow worse.
A quick swipe with a sponge on the trays before you  put away new groceries helps and it's fast.
Check the fruit and vegetable drawers whenever you go for that new apple and be sure all the others are still ripe. If you begin to see soft or dark spots, they are ready for the compost bin.
The Big Sniff
To track down a particular offender, do a sniff test of every food and container stored inside. Possible odor culprits are leftovers or pungent sauces containing onions or garlic. If you can, quickly identify and dispose of whatever is causing the smell. Even if you find one item, chances are it permeated your entire refrigerator.
The Big Clean
Even if you found it, removing one item may not rid your refrigerator of the smell. Or, if you cannot trace the cause of a refrigerator smell to any particular food, a thorough cleaning may solve the problem.
Certain foods, particularly bottled condiments, can safely sit outside the refrigerator briefly, but stow more perishable foods such as milk, eggs and frozen foods in ice chests.
Once the refrigerator is empty, remove all removable bins and ice trays and soak in hot soapy water.
Cleaning all the appliance's interior surfaces, including inside the door and the gasket, with a soapy dishrag to remove any old food spills. A mixture of one cup of baking soda in gallon of water makes a good sanitizing solution for wiping down all interior surfaces following cleaning.
A couple of tips to keep your refrigerator smelling fresh:
Dab a small amount Vanilla extract onto a clean cloth and wipe the inside of the refrigerator
Vinegar is a time-tested, safe cleaner. Use equal parts white vinegar and water to wash both the interior and exterior of your fridge, including the door gasket and the fronts of the vegetable and fruit bins.
If you had a power failure that cause the food to spoil and become malodorous in your fridge you can get rid of spoiled-food smells in by wiping the walls with tomato juice.
Lemons are everyone's favorite. Dab lemon juice on a cotton ball or sponge and leave it in the fridge for several hours.
Fresh coffee grounds left open in a shallow pan at the bottom of the refrigerator can serve the same purpose.
Activated charcoal, available in drug stores or pet stores, provides a more intense deodorizing.
Repair or Replacement
If, after every attempt to remove odor from a refrigerator, the bad smell continues to linger, it's possible that juice from spoiled meat, poultry or fish entered into the refrigerator's insulation, particularly if a power failure occurred. When this happens, homeowners have little choice but to consult a professional appliance company.
If you need to consult a professional about repairing your refrigerator, be sure to contact us today.